N-E-W-S F-L-A-S-H

The Motion to change the Chihuahua Standard to add a disqualification for the merle colour has passed at the Canadian Kennel Club. It is effective January 1, 2008!

THE KENNEL CLUB OF UK (England, Wales, Scotland) HAS OFFICIALLY BANNED MERLE CHIHUAHUAS FROM BEING REGISTERED OR SHOWN.

The UK standard has been revised to read,




The Chihuahua standard reads, "any color--solid, marked, or splashed." This refers to color, not modifiers that act on color. The merle gene is a modifier producing a pattern, not a color--the merle gene modifies, or acts on, any color it is paired with. Deafness and/or blindness (partial or complete) has already been proved to be associated with a single copy of the merle gene in Chihuahuas. Once this foreign gene gets into our light colors (fawns, creams, white-spotteds, etc.), it will not be detectable to the eye and it can easily creep into any line through an outcross. Color pedigrees will not help since many puppies change color as they grow and are not registered correctly.

^~^~^~^~^~^~^~^~^~^~^~^~^~^~^~^~^~^~^~^~^~^~^~^~^

Hilary Harmar, Aztec Chihuahuas (UK), well-known English Championship show judge, alongside other famous comtemporaries like Thelma Gray (Rozavel), Marjorie Fearfield M.B.E (Bowerhinton), founder of The British Chihuahua Club in 1949, Mrs Margaret Rider (Rowley), Miss D. Russell-Allen (Dalhabboch) and Lady Margaret Drummond-Hay (Seggieden), to name just a few, did much to help establish the breed in England in the early 1950s. She travelled extensively and lived in Mexico for several years where Colonel Harmar (her husband) served as British Military Attache.

Mrs. Harmar was also on the committee for saving the Xoloitzcuintli (Mexican Hairless Dog) in Mexico and in 1956 imported the first ones into England since 1911. Her famous "Aztec" affix appears in Chihuahuas, Japanese Chins, Pomeranians, Shih Tzus and American Cockers. It is very interesting to note that Hilary Harmar, as early as 1968, made the following reference to the merle gene in her book "Dogs and How to Breed Them" (p. 9) under the heading of "Lethal Genes,"

"Lethal genes are recessive. The following are some of the lethal genes: cleft palate, abnormal whelping, haemophilia and bitches which absorb their whelps.

"Semi-lethal genes, such as those producing bilateral cryptorchids, eventually become lethal to a breed by resulting in its becoming extinct. Puppies with cleft palates, unless operated on, cannot suck and therefore die. The merle colouring is interesting, because it is connected with a semi-lethal gene, and, when it occurs in a double dose, the offspring may be blind, deaf or sterile. For obvious reasons, therefore, two merle dogs should on no account ever be mated together. In fact, in would be better for merle to be a disqualified colour in all breeds."

~~~~~~~~~~~~~~~~~~~~~~~~~~~~~~~~~~~~~~~~~~~~~~~~~~~~~~~~

Logo used with permission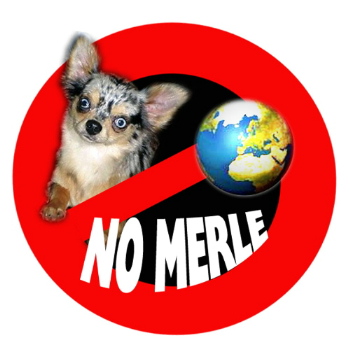 Merles & Genetics
For those who are not familiar with the merle gene, one fact is indisputable: In order for a dog to BE a merle, it MUST HAVE one merle parent, either sire or dam. This gene cannot remain 'hidden' for generations, like chocolate or blue, which are recessive colors, thus proving that it has only recently been introduced into our breed.
A merle dog (Mm genetically) contributes one of these genes when bred, either M (merle) or m (non-merle). If a puppy receives the M (merle) gene, it will be merle. If it receives the m gene, it will not be merle. The M (merle) gene acts on whatever coat color the puppy has.
The problem with allowing the (new) merle color in Chihuahuas, is that we have so many light-colored dogs. Breeding these light dogs to merle will result in fawn, cream, red, sable, white, etc. merles, which are often NOT recognizable as merles as adults(though when bred to black tris, they will produce blue merles, thus identifying one parent as a hidden merle). When these hidden merles are bred to other merles (accidentally or unknowingly), thus doubling up on the merle (M) gene, the result (if the puppy inherits one M--merle--gene from each parent) will be a puppy with two M genes--a homozygous merle. These puppies will be deaf and/or blind, and some will have other internal health problems as well as possibly being infertile. The fact that they are deaf and/or blind will not be recognized until they are older (around weaning time), hence a decision will have to be made about what to do with them....
At this time, there are already normal (single M) merle Chihuahuas which have been diagnosed by two independent veterinarians with deafness and eye problems that will lead to blindness. Is this really for the betterment of the breed?
This website has photos of some of the eye problems in homozygous (double) merles that can be seen with the naked eye, without an ophthalmoscope such as coloboma, micropthalmia, sunburst pupils, iris hypoplasia, etc.
http://www.ashgi.org/color/eyedefects.htm
The Inheritance of Coat Color in Dogs, by Clarence Little, when listing colors for Chihuahuas, does NOT list MERLE. Please click on the link below.
http://www.geocities.com/Petsburgh/Park/3905/coatcoloursinchis.html
Merle genetics toward the end of the page, about 3 easily understood paragraphs. Please click on the link below.
http://www.kelpies.caviesrule.com/about.html
Below is a link to one person's experience with breeding merle Chis, is this really worth it?
http://www.kandeechihuahuas.com/merles/ftlowille.html

English Kennel Club information on merle Chis

Healthy dogs & cats take vitamins! (800) 474-7044 (order code 62539) 19.95 + ship. for 30 (3-month supply for Chis)
http://www.cipinet.com/banners.html