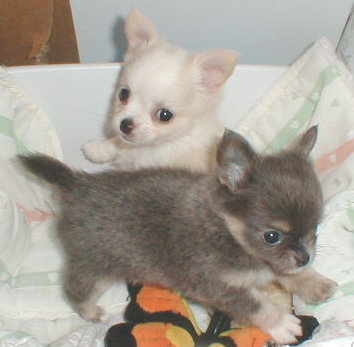 I would like to give you a tiny glimpse of the heartache we go through to produce your much loved companions. Please treasure them and treat them as if they were born in your own home. I LOVE to SHOW! Personally, I HATE BREEDING but it's the only way I can get another puppy to show and continue my bloodline. I would like to share an experience I recently had to show you that every breeding we do puts our dams at risk.
My Champion longcoat male was bred to a dear friend's healthy 4-year-old Champion smoothcoat female. When it was time (she knew it would be a c-section), my friend asked me to meet her at her vet's to help catch puppies. Her vet is an hour's drive from me, and I was reluctant to leave my dogs that long, but I went. Her vet examined the female, and while my friend held her, the Lactated Ringer's IV drip was put in her vein. Suddenly, her heart rate dropped, her gums went white, and she gave a little yelp. The vet put an oxygen mask on her and she died in my friend's arms.
He quickly operated, removed all four puppies (all girls) and we revived them, but their dam is dead. Two vets worked on her for almost an hour, but were unable to resuscitate her. This was terribly distressing. Seeing that poor female lying on the table dead was the worst shock I think I've ever had. I was just stunned. The vets have no idea why she died. She gave her life for these puppies. My friend was able to give them to a surrogate mother, but she has very little milk, so my friend is feeding them every two hours, day and night.

Please remember this story when we put you through the wringer and grill you before we allow one of our precious puppies to join your family. Our puppies mean so much to us. Our hearts are often broken when puppies die or the ultimate tragedy happens, as in this case, and a treasured Champion dam dies.
Update: I'm thrilled to report that all four puppies are healthy and alive at 1 1/2 years old!